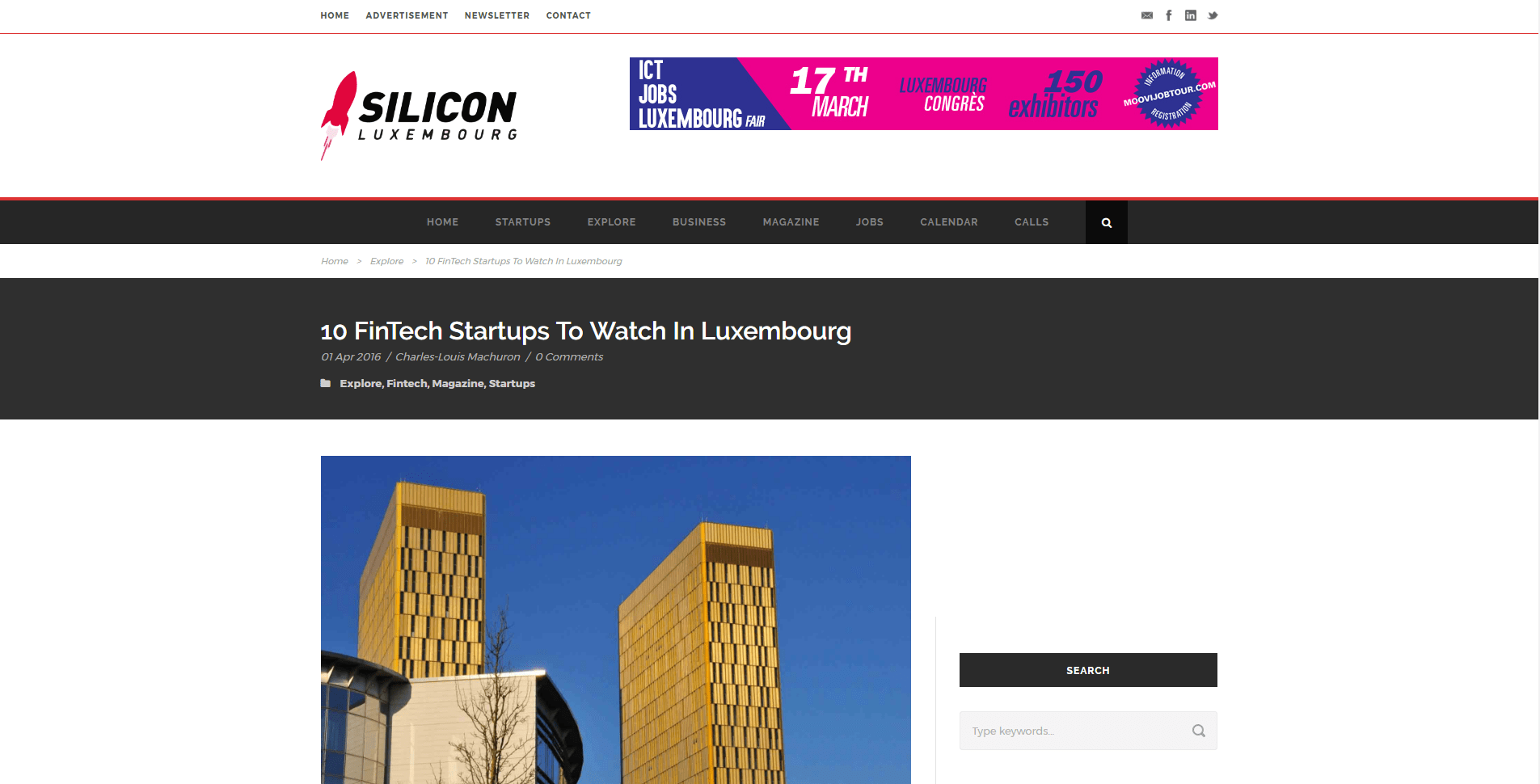 ---
2016-04-01
10 FinTech Startups To Watch In Luxembourg
---
Is FinTech just a fad or is it here to stay? FinTech startups are reshaping the financial sector and Luxembourg is the place for FinTech startups to be. As the top private banking center in the Eurozone and second largest in the world, startups in Luxembourg can easily get access to more than 150 banks and a thousand investment funds. Having this mass of potential clients and partners in such a tiny area is unique.
---
BIRDEE
---
The startup offers an online discretionary portfolio service for mass affluent investors. Through a combination of algorithms, the service lets investors choose a portfolio, created by the startup's experts, that best meets their expectations and risk profiles, and that, in function of these, is constantly optimized in order to provide the best return. – See more at birdeeinstitutional.com
DIGICASH PAYMENTS
---
The startup is a mobile payment technology specialist. Its complete suite of customizable apps and platforms enables banks and the payments industry to set up full-featured mobile payment products in a very short period of time. – See more at digicash.lu
GOVERNANCE.IO
---
The startup offers a software solution for investment fund professionals who need to oversee and manage complex investment fund structures. The software acts as a central repository for all of the fund data, a document management system and a workflow management tool. The startup is also releasing a third-party due diligence module. – See more at governance.io
KYC3
---
The startup aims to bring sweeping change to the compliance market. The startup helps its clients avoid spending hours using search engines or contacting background screening companies to review potential clients. In other words, it simplifies the due diligence process and provides interactive reports that help companies make important decisions. – See more at kyc3.com
NEURODECISION
---
Based on numerous research results in behavioral finance, the startup has developed an online test allowing them, through a complex algorithm, to define, with reliability and precision, the risk profile of investors. With thousands of investor profiles in its database, and partnerships with major financial institutions, it is one of the first movers in KYC behavioral data processing. – See more at neurodecision.com
NEXVIA
---
The startup has introduced new innovative personal finance tools for private individuals engaging in property transactions. The platform provides users who are looking to buy, sell or rent property with financial technology tools that facilitate their investment decisions. – See more at nexvia.lu
OLKYPAY
---
The startup is a new payment service provider. The company has developed a new transaction platform integrating a wide variety of payment methods: direct debit or debit, interbank payment, transfer and credit card. It is offering greater autonomy to enterprises and facilitates the receipt of invoices. – See more at olkypay.com
PAYCASH
---
The startup developed a platform that enables businesses to process payments in the most convenient way without limitations of time and place. It offers a mobile payment solution, as well as an e-money solution, crypto-currency solution, and voucher and loyalty solution. – See more at paycash.eu
SCORECHAIN
---
The startup intends to offer all the tools needed to build trust in the Bitcoin/Blockchain ecosystem. The Bitcoin compliance solution currently provides market data and analysis for Bitcoin transaction stakeholders. In the future, the startup plans to offer tools for digital asset management and smart contracts. The goal of the startup is to create the Big Data platform of the "Blockchains." – See more at scorechain.com
SESAMM
---
The startup developed financial forecasting algorithms based on the analysis of data from social networks. They provide banks and hedge funds with financial indicators that help to analyze stock indexes and make investment decisions.
Source