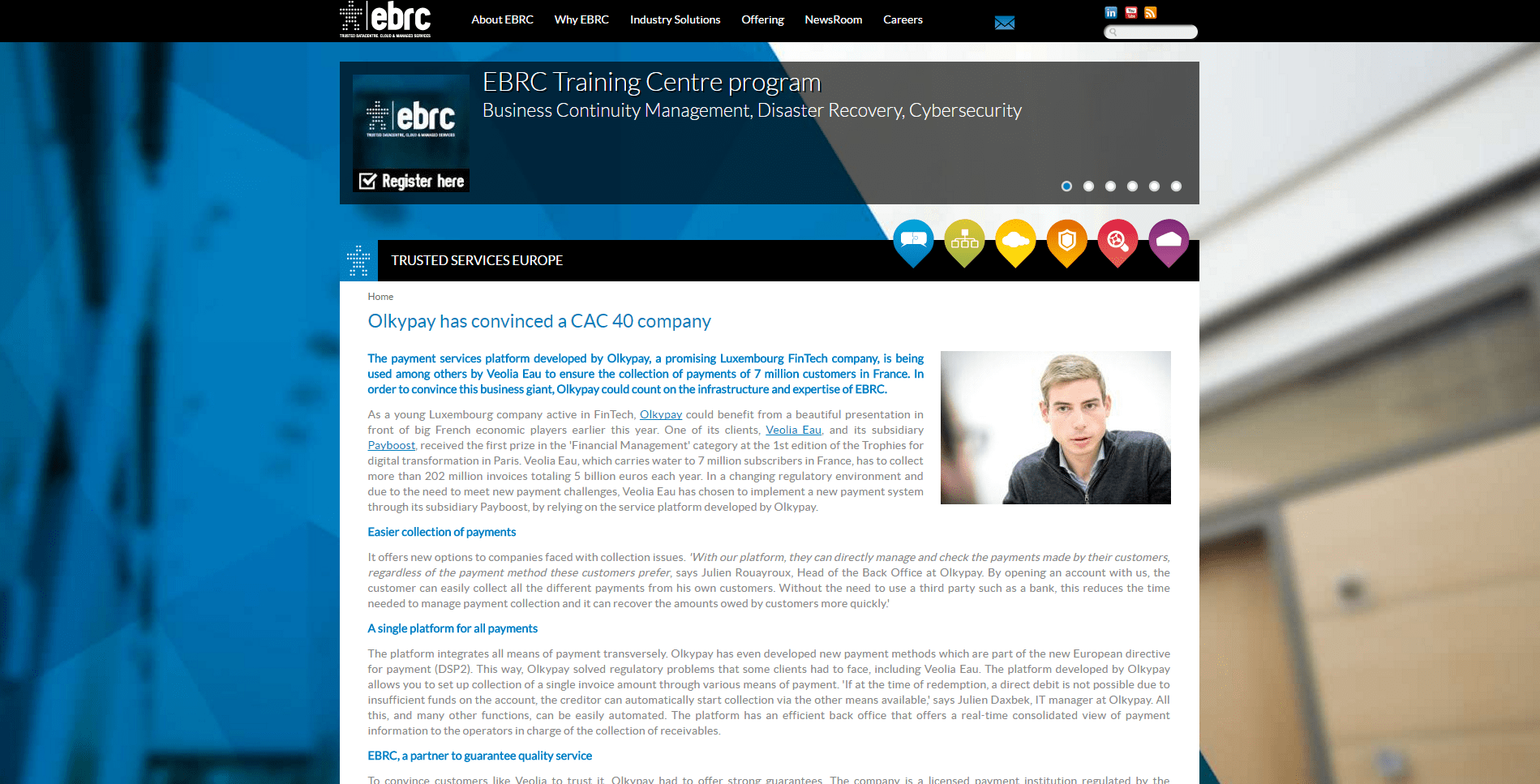 ---
2016-03-01
Olkypay has convinced a CAC 40 company
---
The payment services platform developed by Olkypay, a promising Luxembourg FinTech company, is being used among others by Veolia Eau to ensure the collection of payments of 7 million customers in France. In order to convince this business giant, Olkypay could count on the infrastructure and expertise of EBRC.
---
Julien Rouayroux
---
As a young Luxembourg company active in FinTech, Olkypay could benefit from a beautiful presentation in front of big French economic players earlier this year. One of its clients, Veolia Eau, and its subsidiary Payboost, received the first prize in the 'Financial Management' category at the 1st edition of the Trophies for digital transformation in Paris. Veolia Eau, which carries water to 7 million subscribers in France, has to collect more than 202 million invoices totaling 5 billion euros each year. In a changing regulatory environment and due to the need to meet new payment challenges, Veolia Eau has chosen to implement a new payment system through its subsidiary Payboost, by relying on the service platform developed by Olkypay.
Easier collection of payments
---
It offers new options to companies faced with collection issues. 'With our platform, they can directly manage and check the payments made by their customers, regardless of the payment method these customers prefer, says Julien Rouayroux, Head of the Back Office at Olkypay. By opening an account with us, the customer can easily collect all the different payments from his own customers. Without the need to use a third party such as a bank, this reduces the time needed to manage payment collection and it can recover the amounts owed by customers more quickly.'
A single platform for all payments
---
The platform integrates all means of payment transversely. Olkypay has even developed new payment methods which are part of the new European directive for payment (DSP2). This way, Olkypay solved regulatory problems that some clients had to face, including Veolia Eau. The platform developed by Olkypay allows you to set up collection of a single invoice amount through various means of payment. 'If at the time of redemption, a direct debit is not possible due to insufficient funds on the account, the creditor can automatically start collection via the other means available,' says Julien Daxbek, IT manager at Olkypay. All this, and many other functions, can be easily automated. The platform has an efficient back office that offers a real-time consolidated view of payment information to the operators in charge of the collection of receivables.
EBRC, a partner to guarantee quality service
---
To convince customers like Veolia to trust it, Olkypay had to offer strong guarantees. The company is a licensed payment institution regulated by the Commission de Surveillance du Secteur Financier (CSSF), the Luxembourg regulator. It therefore has to meet strict supervision requirements. This is comforting for clients and underlines the sustainability and seriousness of this young company.
Beyond that, Olkypay had to provide guarantees for securing transactions and permanent service availability. Indeed, given the amounts involved, the losses that could arise due to a few hours of unavailability of service are unimaginable. To process a large number of transactions and meet the expectations of its customers and offer them all the relevant guarantees, Olkypay relied on EBRC, the leading player with its 'Trusted Cloud Europe'. 'With its advanced infrastructure and its extremely advanced skills, our ICT partner offers very high guarantees of security and service availability. EBRC has become the partner of choice to support our development, explains Julien Daxbek. As a company with support PSF certification issued by the CSSF, it meets our requirements, those of the regulator and also those of our customers, all at the same time.'
Veolia Eau insisted on visiting the data centres of EBRC twice and also met the team itself before entrusting Olkypay with its payment collection, in order to have all the necessary guarantees. 'EBRC manages all the infrastructure that supports the operation of our services. This allows us to focus our efforts on improving the platform to meet the specific needs of our customers like Payboost.' This subsidiary will manage the collection of payments for Veolia Eau and offer service to third parties based on the Olkypay platform. This offering meets the needs of companies that send invoices on a massive scale, such as telecommunications operators, energy suppliers, etc.
Continuous innovation and growth
With the help of EBRC, which has been meeting the computing needs of financial institutions for over 15 years, Olkypay will continue to innovate by developing new means of payment. 'EBRC accompanies us in the PCI-DSS certification process, which should allow us to cover the entire chain of acquisition and issuance of payment cards, adds Julien Rouayroux . In EBRC, we found a partner capable of supporting our recurring operational needs but also a company that helps us to move forward, innovate and differentiate ourselves by technologically implementing our ambitions and ideas.' Having convinced a CAC 40 giant like Veolia Eau, Olkypay certainly has a bright future ahead of it. It is, in any case, one of the most promising FinTech companies that Luxembourg has to offer.
Article source